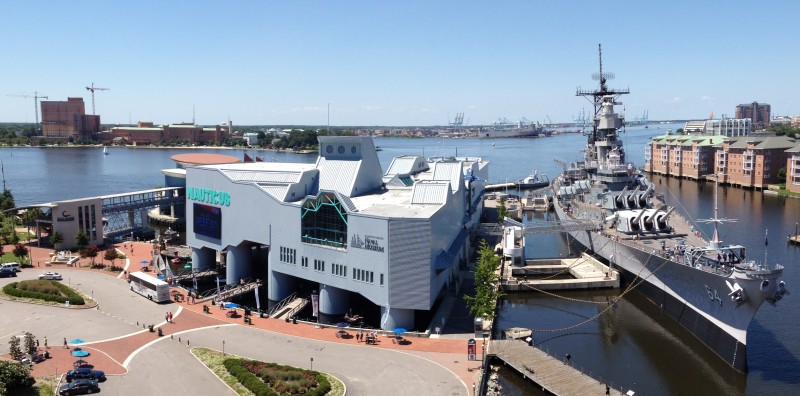 Each year, on the anniversary of the sinking, St. Lo and USS Dennis survivors and their families come together to renew friendships, share memories and exchange accounts of their personal experiences.
This year's Reunion is in Virginia Beach, Virginia, on Sunday, October 22 to Thursday, October 26, 2017, at the Virginia Beach Norfolk Hotel and Conference Center Holiday Inn, 5655 Greenwich Rd., Virginia Beach, VA, 23462, (757) 499-4400.
IMPORTANT: If you haven't received your registration package by mail by April 20, 2017, please contact Daryl at dfunaiock@icloud.com or (757) 613-4505.
Agenda
SUNDAY, October 22
Registration opens at 1:00
MONDAY, October 23
Free day to explore Virginia Beach and Hampton Roads
TUESDAY, Octob
er 24
10:00 Guided tour of the Naval Museum and the Battleship Wisconsin
12:30 Lunch available at the Dockside Cafe (inside museum)
13:00 (recommended) Tour of the General MacArthur Memorial and Museum
18:30 Dinner banquet at the hotel
WEDNESDAY, October 25
10:00 Memorial Service at the Military Aviation Museum in Virginia Beach
12:00 Lunch at the Museum, catered by Mission Bar-B-Que.
13:00 Guided tour of the Museum and Airfield
THURSDAY, October 26
9:00 Farewell Breakfast at the hotel
FOR ADDITIONAL DETAILS AND LODGING INFORMATION contact Daryl at dfunaiock@icloud.com or (757) 613-4505.